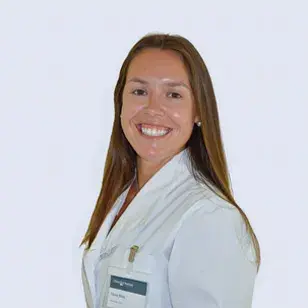 Dra. Tânia Silva
Hospital Lusíadas Amadora:
Clínica Lusíadas Oriente:
Languages
Portuguese and English
Areas of Interest
Preventive Dentistry; Orthodontics; Periodontology; Oral hygiene.
Consultations
Oral Hygiene
Breve CV
Degree in Oral Hygiene from the Faculty of Dental Medicine, University of Lisbon (2011).
Private practice in Oral Hygiene since 2011.
Theoretical and practical course on implant maintenance (2016).
schedules and agreements
Hospital Lusíadas Amadora
Clínica Lusíadas Oriente
Hospital Lusíadas Amadora

Clínica Lusíadas Oriente
Agreements
SAMS Quadros
Particular
ADM / IASFA
ADSE
AdvanceCare
Allianz
Ecco-Salva
Fundação Salvador Caetano
Future Healthcare
Jerónimo Martins
Lusíadas 4US
Medicare
Médis
Médis CTT
Multicare
Multicare - ACS
RNA Medical
SAD/GNR
SAD/PSP
SFJ - Sindicato dos Funcionários Judiciais
SSCGD
Staples
KeepWells
Colaboradores Lusíadas (Seguro Saúde Médis)
Lusíadas Plan
SAMS Norte
Medical Port
ADSE, IASFA, SAD PSP, SAD GNR - Tabela especial sem convenção
Agreements
SAMS Quadros
Particular
ADM / IASFA
ADSE
AdvanceCare
Allianz
Ecco-Salva
Fundação Salvador Caetano
Future Healthcare
Jerónimo Martins
Lusíadas 4US
Medicare
Médis
Médis CTT
Multicare
Multicare - ACS
RNA Medical
SAD/GNR
SAD/PSP
SFJ - Sindicato dos Funcionários Judiciais
SSCGD
Staples
KeepWells
Colaboradores Lusíadas (Seguro Saúde Médis)
Lusíadas Plan
SAMS Norte
Medical Port
ADSE, IASFA, SAD PSP, SAD GNR - Tabela especial sem convenção