Reequilibrar o organismo
utilizando uma abordagem holística.
A área de Osteopatia foca-se no sistema músculo-esquelético para reequilibrar o organismo, sem recorrer a substâncias químicas.
Na Lusíadas Saúde, dedicamo-nos à investigação, diagnóstico e tratamento da dor, incluindo situações como a dor lombar persistente, tendinites e contraturas musculares, mas também perturbações digestivas, asma ou stresse, seja no adulto ou na criança.
Clinical staff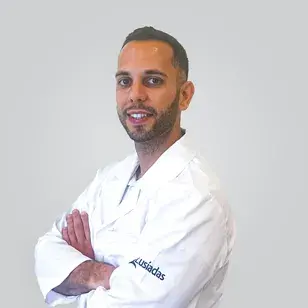 Clínica Lusíadas Oriente:
Areas of Interest
Sports Area; Osteopathic Dysfunctions resulting from Posture; TMJ Dysfunctions (temporomandibular joint); visceral and sacrocranial treatment
Languages
Portuguese, English and Spanish
View all
Benefícios e patologias que a Osteopatia trata
Há dois benefícios determinantes na Osteopatia. O primeiro é a melhoria da capacidade funcional do indivíduo que, após o tratamento osteopático, ativa a recuperação e a harmonia do organismo, promovendo-lhe bem-estar e saúde. 
Por outro lado, o tratamento osteopático tem um caráter preventivo, evitando 
que disfunções assintomáticas se tornem dolorosas. 
A Osteopatia é indicada para pessoas de todas as idades, incluindo bebés e recém-nascidos. É eficaz como complemento a práticas médicas e baseia-se 
numa abordagem holística, encarando o corpo como um todo inserido no seu 
meio ambiente.
A Osteopatia tem resultados comprovados no tratamento e melhoria de vários problemas de saúde: 
Dores de cabeça

Azia

Refluxo gastroesofágico

Dores menstruais

Desequilíbrio no sistema sacro-craniano

Disfunções da articulação temporo-mandibular (ATM)

Dor músculo-esquelética
Além do tratamento destas patologias, a Osteopatia contribui ainda para o aumento da flexibilidade e da mobilidade articular.