Vision
Transforming healthcare, with decisions based on science and data, leveraging our talent, innovation, quality and clinical excellence. We want to be the best at caring for People, committed to society and to the future.
Mission
Lusíadas Saúde's mission is to help people live healthier lives and to help make the health system work better for everyone. Our goal is to improve the performance of the health system, as well as the health and well-being of our clients and their loved ones.
We work with health care professionals and with other important partners to facilitate access to quality services, so that people receive the care they need at an accessible price.
We incentivize the doctor-patient relationship and make available the information, guidance, and tools necessary for each person to make choices and decisions with regard to their health.
Our Values
Lusíadas professionals embody a set of values which help to fulfill the mission of
helping people live healthier lives and helping make the health system work better for everyone.
The provision of care at any Lusíadas hospital or clinic rests on principles including Integrity and Compassion. With a culture centered on the individual, it is our priority to develop human relationships of trust which promote personalization of care capable of responding to the unique needs of each person.
Lusíadas units strive for clinical excellence, evaluating themselves in comparison to the best international institutions. Every detail is thought through according to best international practices and applied under continued supervision of teams focused on identifying and informing of potential risk factors.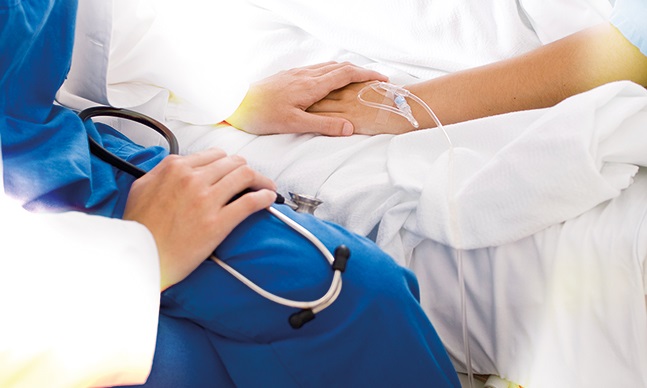 This concern with Performance has led us to develop innumerous safety circuits, making it possible for us to state in every moment, our clients are in good hands. In Lusíadas' hands.
We maintain our position at the forefront of health technologies, focusing continually on Innovation, so as to be able to offer the most advanced therapies and, at the same time, to utilize and adapt the most modern technological solutions to reinforce patient safety.
And further, common to all Lusíadas Units is a focus on Relationships, building trust through relationships of collaboration that go beyond medicine. To actively contribute to a better world, we focus on building relationships with the communities in which our facilities are located, as a way to incentivize the adoption of healthy life-style habits, increasing access to health care of excellence, and contributing to the sustainability of the health system.
Our wish is to always be there for people and to always be ahead of health care. These are the principles that make it possible for us to state that our clients are in good hands. In Lusíadas' hands.
Values
Summary
Honor commitments. Never compromise ethics.
Summary
Walk in the shoes of the people we serve and those with whom we work.
Summary
Build trust through collaboration.
Summary
Invent the future, learn from the past.
Summary
Demonstrate excellence in everything we do.
Consult UnitedHealth Group Code of Conduct