Elevated standards of quality and safety in men's health care, in particular for
problems related to the male reproductive system.
Andrology is a medical specialty dedicated to diagnosis and prognosis as they relate to male health, specifically with regard to sexual function and the male reproductive system.
Specialists at Lusíadas Saúde Andrology Units follow the highest quality and safety standards, supported by exams and cutting-edge technology in order to proceed to diagnosis and treatment for issues including erectile dysfunction, premature ejaculation, and varicocele.
Clinical staff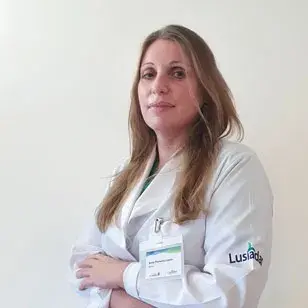 Dra. Sofia Pinheiro Lopes
Units
Hospital Lusíadas Amadora
Hospital Lusíadas Lisboa
Areas of Interest
Male Sexual Dysfunction; Urological Oncology: tumor of the prostate, kidney, bladder, testicle and penis; Urinary Lithiasis; Endourology; benign prostatic hyperplasia (BPH); Female Urology (incontinence, prolapses and urinary tract infection)
View all
+351 21 770 40 40
7 a.m. to 10 p.m., 365 days a year
Number if calling from outside Portugal
+351 21 770 40 40
geral@lusiadas.pt
Contact us via e-mail with questions or to request further information
Lusíadas
New +Lusíadas App
Adress
Rua Abílio Mendes
​1500-458
Lisboa