Technological precision and humanized services for the
recovery from injuries that affect the locomotive system.
Physical and Rehabilitation Medicine is a medical specialty dedicated to recovery from injuries to muscles, nerves, joints, tendons, and bones, minimizing the impact of these injuries on quality of life.
Lusíadas Saúde Physical and Rehabilitation Medicine Units are characterized by a highly specialized team which, in conjunction with different professionals, is centered on client recovery, monitoring them from first contact through full rehabilitation.
Permanently focused on improvement of services and client quality of life, at Lusíadas Saúde, Physical and Rehabilitation Medicine Unit practices encompass physical, psychological, emotional, and social aspects, providing the full range of physical and therapeutic means necessary for social reintegration of clients.
Consultations and Exams
Physical Medicine and Rehabilitation Consultation / Physiatrics

Book online through our Portal
Clinical staff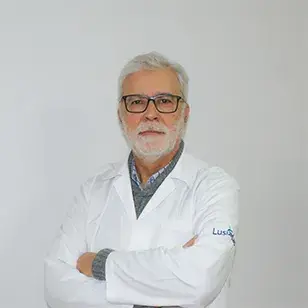 Unit Coordinator of Physical and Rehabilitation Medicine
Areas of Interest
Degenerative and Inflammatory Rheumatism; Sequelae of Diseases affecting the Central and Peripheral Nervous System; Sequelae of traumatic or non-traumatic osteoarticular diseases (fractures, dislocations, sprains, muscle ruptures, tendinopathies); Respiratory Kinesiotherapy; Sports Traumatology
Languages
Portuguese, English, French and Spanish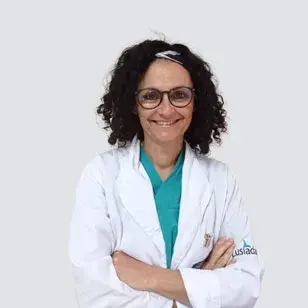 Areas of Interest
Pelvic Floor Disorders, namely situations of pelvic pain, various forms of urinary incontinence, dysfunctional urination, pelvic organ prolapses, fecal incontinence, defecation obstruction. Multiplechannel Urodynamics exams, namely: Cystomanometry, Pressure/flow study, Urethral pressure profile, Valsalva leak point pressure, Sphincter electromyography, Flowmetry. Fundamental exam in the study of stress, urge or mixed urinary incontinence, preoperative study of incontinence surgery, neuro-urological injury in adults and children, urethral obstructive pathology or post-prostatectomy incontinence in men.
Languages
Portuguese, French and English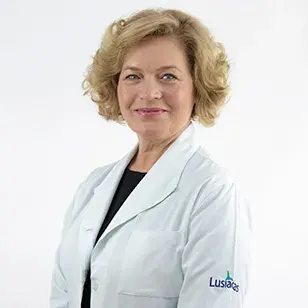 Areas of Interest
Pediatric Rehabilitation
Languages
Portuguese, French and English
View all
+351 253 079 579
8 a.m. to 7 p.m., monday to saturday.
Number if calling from outside Portugal
+351 21 770 40 40
Lusíadas
New +Lusíadas App
Address
R. da Escola de Enfermagem
4700-352
Braga