Multidisciplinary approach and cutting-edge technology for
diagnosis and treatment with radiation and radiopharmaceuticals.
Nuclear medicine is a medical specialty dedicated to carrying out complementary diagnostic tests, as well as therapies, using small sources of radiation or radiopharmaceuticals.
At Lusíadas Saúde, Nuclear Medicine Units are equipped with the most sophisticated equipment and technology for performing an array of procedures, including Positron Emission Tomography (PET) and Gamma Camera with Computer Tomography, which serve to diagnose and treat oncologic and non-oncologic diseases.
Lusíadas Saúde Nuclear Medicine Units have teams of technicians and medical specialists with extensive experience who, with the support of cutting-edge technology, work in close collaboration with different medical and surgical specialty areas.
Consultations and Exams
Equilibrium Radionuclide Angiography (ARNE)

Radionuclide Equilibrium Angiography (ARNE) with Overload

Myocardial Perfusion Scintigraphy at Overload and Rest

Cardiac Scintigraphy with 123I - mIBG

Body scintigraphy with 123I - mIBG

Red blood cell labeled liver scintigraphy

Hepato-Splenic Colloid Scintigraphy

Salivary Gland Scintigraphy

Gastric emptying scintigraphy

Scintigraphy for Gastroesophageal Reflux

Digestive Hemorrhage Scintigraphy

Scintigraphy for Ectopic Gastric Mucosa (e.g. Meckel's diverticulum)

Renal scintigraphy with 99mTc - DMSA

Transplanted Kidney Perfusion Scintigraphy

Bone Scintigraphy with Three-Phase Study

Lung Ventilation Scintigraphy

Pulmonary Perfusion Scintigraphy

Lymphoscintigraphy for Lymphedema Evaluation

Iodine therapy - 131 up to 10 mCi

Iodine Therapy - 131 up to 15 mCi

Resting Myocardial Perfusion Scintigraphy

Iodine Therapy - 131 up to 20 mCi

Ventilation + Pulmonary Perfusion Scintigraphy

Brain scintigraphy with 123I - Ioflupane (DaTscan)

Indirect cystoscintigraphy

Renogram with Captopril Trial

Immunoscintigraphy with Anti-Granulocyte Antibodies

Lymphoscintigraphy for Sentinel Ganglion Detection

Renogram with Diuretic Test

Myocardial perfusion stress scintigraphy

Renogram with 99mTc - MAG3

Pharmacological Intervention - Diuretic Test (In addition to Renogram)

Pharmacological Intervention - Captopril Trial (Added to the Renogram)

PET-CT with 68Ga - Somatostatin Analog (DOTANOC/TOC/TATE)

Radium Dichloride Therapy - 223

PET-CT with 18F - Sodium Fluoride

PET-CT with 18F - Fluorocholine

PET-CT with 18F - FDG - Brain

PET-CT with 18F - FDG - Cardiac

PET-CT with 18F - FDG - Whole Body

Renal scintigram with DTPA
Clinical staff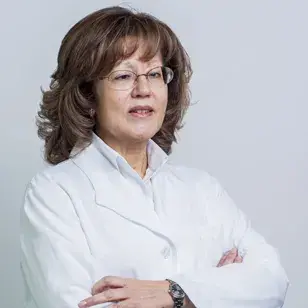 Dra. Teresa C. Ferreira
Coordenador de Nuclear Medicine : Hospital Lusíadas Lisboa
Units
Hospital Lusíadas Lisboa
Areas of Interest
Oncology; Therapeutics in Nuclear Medicine and Quality
View all
Find Nuclear Medicine specialty
Where to find Nuclear Medicine specialty and closest unit